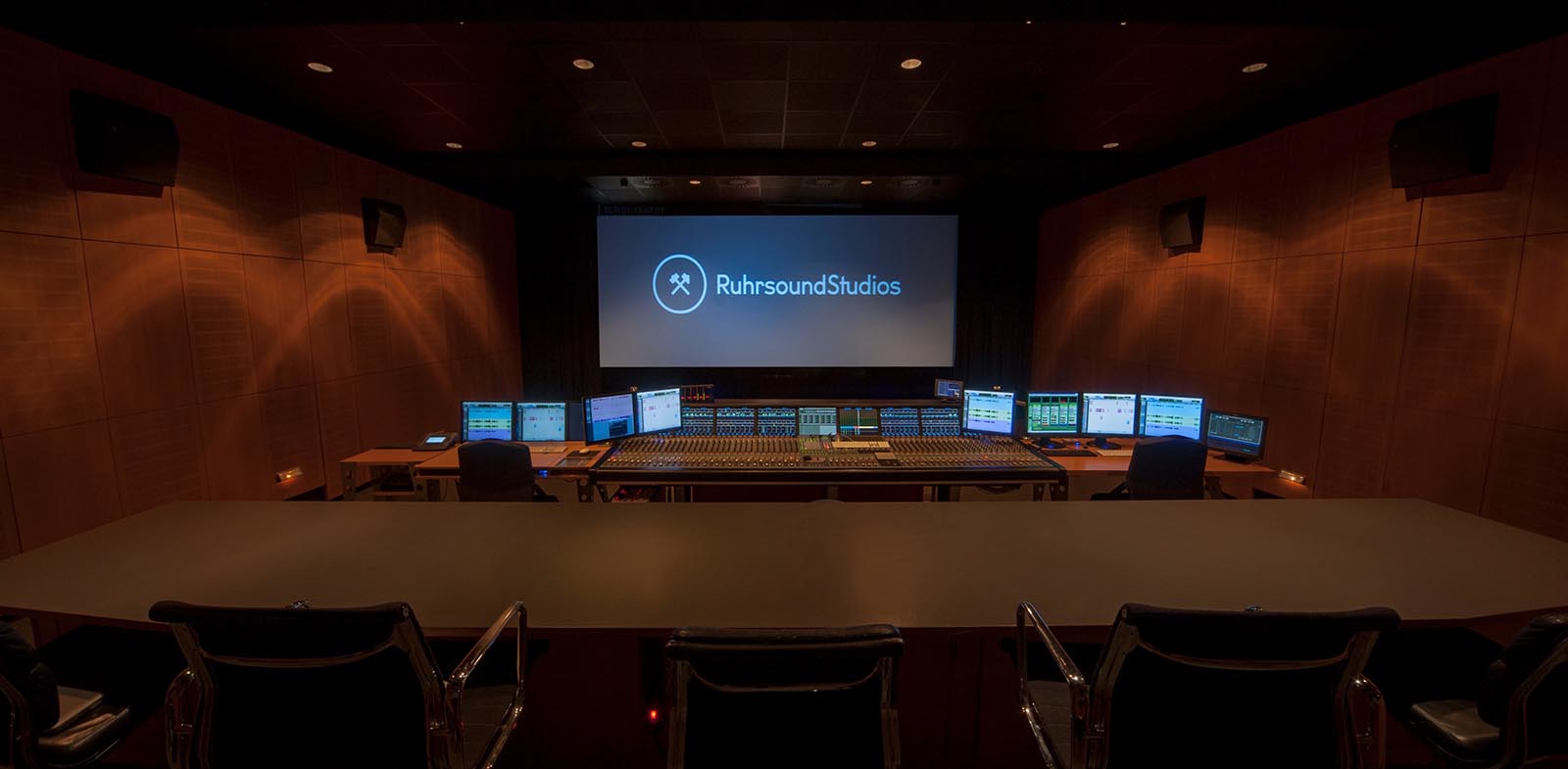 With our flexible, creative and technical architecture, we are best equipped to provide excellent sound post-production.
State-of-the-art re-recording is available for all formats in our studio complex, from TV stereo mixes up to 5.1/7.1 cinema mixes. In addition we offer high-end capacities for sound design, recording and editing.
Ruhrsound has a long-standing tradition and is in a position to realize your project at the highest level with a team of well-known re-recording mixers, sound designers, recordists/mixers and editors.
THX & Dolby certified Mixing Stage
JBL Cinema Speaker System
Meyer Sound TV Speaker System
Harrison MPC4-D Mixing Console, 64 Fader incl. Optional Dual Operator Configuration
3 | Avid Pro Tools HD 10/11/12 System (Playback)
1 | Avid Pro Tools HD 10/11/12 System (Recording)
1 | Steinberg Nuendo 6.5/7 System (Playback)
1 | BARCO DP4K-23B  - DCI-conform 2K+4K 2D, 2K+4K 3D
1 | DLP HD Video Projector - HD Quicktime Playback
1 | Kinoton FP38 EC High Speed Projectors
Soundmaster ION ATOM System
Avid Satellite Link Option
Dante Audio Networking
Dolby DMU
Avid Artist Series, Avid S3 available on request
Outboard Gear & Software Plug-Ins
Lexicon 480L, Lexicon 300, Lexicon PCM 70, Juenger Orion 8ch Digital Dynamic Range Processor, Dolby 430 - Noise Suppressors, Dolby 740 Stereo, Cedar DNS 3000, Hush Noise Suppressor, Eventide H3500 Harmonizer, Orban Enhancer, Orban Notch Filter, Audio+Design Limiter, Urei Compressors etc.
Avid, Waves, Audioease, Serato, GRM Tools, Cedar Audio, iZotope, Nugen Audio, Softtube, The Cargo Cult, Soundtoys, Neyrinck Audio, Exponential Audio, Sonnox, Dolby, Barco, Audiotech Digital, Sound in Sync, Gallery, Auro Technologies etc.
Other studios
Our other studios are of a size between 15 and 40 square metres, have the same excellent studio acoustics and are equipped with Meyer Sound acoustic systems.  The studios are designed to meet the requirements of sound editorial & sound design, pre-mixing, Foley and ADR recordings and TV mixes. Each studio has a ProTools HD and/or Nuendo system, access to our extensive and unique sound library and to our network. This configuration enables us to do quality work on several projects and in different studios at the same time.